Amazon, Thor goes Nuclear & Whole Foods Charging Wars
A newsletter for people serious about advancing the low carbon economy.
This is Issue No. 2 of Carbon Creed. Last week we had an open rate of 55% (!) and our most read article was Google Climate Accelerator Overshadowed by Questions About Its Own Sustainability Record (Forbes).
My name is Walter McLeod, and I'm so glad you've decided to give our platform a try. I hope to hear from you regularly, as we navigate this weekly journey through the good, bad and ugly of carbon and climate. My email is mcleodwl@carboncreed.com.
If you are a subscriber, THANK YOU SO MUCH, and please forward this to a friend.
If you were reached via our one-time "call to action" campaign, you are not subscribed and we will not be emailing you unless you opt-in.
Now, LET'S GET IT ON!
---
CORPORATE CITIZENS
Jeff Bezos's Master Plan: Climate, Space and eCommerce
Bezos worries that in the coming generations the planet's growing energy demands will outstrip its limited supply. "We have to go to space to save Earth," he says.
Bezos controls nearly 40 percent of all e-commerce in the United States. More product searches are conducted on Amazon than on Google, which has allowed Bezos to build an advertising business as valuable as the entirety of IBM. One estimate has Amazon Web Services controlling almost half of the cloud-computing industry. Forty-two percent of paper book sales and a third of the market for streaming video are controlled by the company; Twitch, its video platform popular among gamers, attracts 15 million users a day. All of this makes Bezos arguably the most powerful man in American culture. (link) The Atlantic
---
Here's Why the Amazon Climate Walkout Is a Big Deal
Employee organizers want to see the company promise to make zero emissions, drop contracts with fossil fuel companies, and stop funding climate change deniers. It's remarkable that employees at Amazon, known for a grueling work culture in which employees put on a unified public front and are sworn to secrecy, are now leading a protest in their sector. (link) Vox
---
The Amazon Climate Pledge, the Walkout and Shareholder Resolution
Amazon is pledging to power its global infrastructure with 100% renewable energy by 2030 and to be carbon-neutral by 2040. The company also plans to buy 100,000 electric delivery vans from Michigan-based company Rivian, in which Amazon previously invested.
Amazon says its Climate Pledge will meet the Paris climate agreement 10 years ahead of schedule. This is a major turnaround for Amazon, and largely the result of demands voiced by its employees in a shareholder resolution and climate strikes. (link) NPR
---
Amazon's Rising Air Shipments Fly in the Face of Climate Pledge
As Amazon moves to be net carbon neutral by 2040, an analysis finds the company's emissions from the use of airplanes is on the rise.
In July 2019, Amazon Air flew 136 million lbs of goods in the United States, according to the data. That was up 29% from the year earlier and just 9 million lbs short of December 2018, when the peak holiday shipping season was in full swing. (link) Reuters
---
INSIGHTS

Is Nuclear Energy the Key to Low Carbon Power? The Case for Thorium
"Thorium produces only one percent of the nuclear waste that uranium produces, with 200 times the power per ton."
Nuclear energy is by far the most efficient source of energy, but due to several drawbacks that come with this resource, many are hesitant to support it. However, this could all change if the source of nuclear power changed from uranium to thorium. If this switch occurred, we could have an enormous supply of clean, efficient energy at our fingertips. Are you convinced? (link) Trinitonian
Bonus: check out this short video on the history of thorium.
---

How Scientists Got Climate Change (Timing) So Wrong
In 2002, the National Academies acknowledged the reality of rapid climate change in a report, "Abrupt Climate Change: Inevitable Surprises," which described the new consensus as a "paradigm shift." Even today, 17 years later, a substantial portion of the American public remains unaware or unconvinced it is happening.
For decades, most scientists saw climate change as a distant prospect. We now know that thinking was wrong. This summer a heat wave in Europe penetrated the Arctic, pushing temperatures into the 80s across much of the Far North and, according to the Belgian climate scientist Xavier Fettweis, melting some 40 billion tons of Greenland's ice sheet. So things are happening a bit faster than initially thought.
Now we're facing consequences once viewed as fringe scenarios. (link) NY Times
---
How Should Billionaires Spend Their Money to Fight Climate Change? 9 Policy Experts Weigh In
Are the wealthy spending their money well? Are the billions they're donating going to the best climate change causes? Should a billionaire who cares deeply about the climate sink money into developing clean energy technologies or political campaigns?
As you might imagine, folks become very creative when asked to spend someone else's money. Some experts are convinced that nuclear power is the solution; others are convinced that's too dangerous. The same goes for solar geo-engineering, a controversial idea that involves injecting aerosols into the high atmosphere to reflect sunlight back into space and make for a cooler planet. (link) Vox
---
GOVERNMENTS
Climate Change will Transform the Global Balance of Power
The shift from oil and gas will be as consequential as changes in weather patterns.
Both climate change itself and the attempts to mitigate it will change the balance of political and geopolitical power both within states and between them and may become a leading source of political instability. (link) Financial Times
---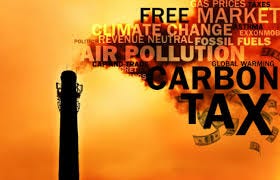 A U.S. Carbon Tax Could Cut CO2 Emissions by Nearly 40 Percent in 10 Years
Last week, a study from economists at Columbia University found that a carbon tax plan with the most support in Congress would slash American carbon pollution by almost 40 percent within a decade. It would outperform any Obama-era climate policy and go well beyond the United States' 2015 commitment under the Paris Agreement.

There's only one hitch: the politics. There is a popular, revenue-neutral carbon-tax bill in Congress, but it is only "bipartisan" on a technicality. Dozens of Democrats support the plan. Its sole GOP backer is planning to leave politics. (link) The Atlantic
---
CLEANTECH
How Whole Foods became ground zero in the EV charging wars. Whole Foods Market is known for its grass-fed beef, fancy cheeses and other expensive organic produce. But the commodity that some customers are really duking it out for are the electric vehicle charging stations in the parking lot. (link) E&E News
---
RESOURCES
The Keeling Curve- a daily record of global atmospheric carbon dioxide concentration, by Scripps Institution of Oceanography at UC San Diego.
Congressional Policy Tracker- a summary of current federal energy legislation before Congress in ten different areas.
Click Clean- find out if your favorite apps and tech company are powered by renewables or dirty energy.
---
Thanks for sharing your time with us!

If you enjoyed this newsletter but aren't yet subscribed, sign up for a free subscription below.

If you are a subscriber, THANK YOU AGAIN, and please forward this to a friend.

👋 Questions, comments, advice? Send me an email!
---
Curated by Walter McLeod, Founder and Editor-in-Chief of Carbon Creed and Managing Partner with Eco Capitol Energy.
---
Thanks for subscribing to Carbon Creed. This post is public, so feel free to share it.