Women Greening Big Tech, Cybertruck goes Solar & Wired to Solve Climate Change
A newsletter for people "woke" on carbon and climate


(source: Apple)

Corporate Citizen
The Women Greenifying Big Tech
Today, with innovations in recycling and enough clean energy to support and help offset the trucking, air travel, and manufacturing that accompany economic growth, we know that businesses can do right by both shareholders and the planet. In fact, as a recent report by the Global Commission on the Economy and Climate tells us, aggressive climate action could deliver $26 trillion or more in economic benefits through 2030. As businesses embrace a greener economy, women are leading the way.
Globally, they now hold the majority of leadership roles in corporate responsibility and sustainability divisions. This can't be an accident; a growing wealth of research shows that businesses with more women in leadership roles more successfully shift focus from maximizing short-term profits to achieving longer-term goals of growth and environmental sustainability. And the bigger the company, the more this can matter. In fact, the most impactful changes are happening precisely where we don't often expect them—at massive global corporation.

The quintessential leader in this space is Lisa Jackson – vice president of environment, policy, and social initiatives at Apple.

Ms. Jackson leads the company's work to address climate change and other environmental issues along with programs on education policy and accessibility. Before coming to Apple, Jackson served as the first African-American head of the Environmental Protection Agency, where she oversaw a groundbreaking decision to classify greenhouse gases as pollutants and begin limiting carbon pollution at power plants. At Apple, Jackson led the company in issuing $2.5 billion in green bonds--more than any other corporation--to fund projects like a shift to 100% renewable electricity, a goal the company met in 2018. Through a $300 million clean energy fund launched in China in 2018, the company is helping its suppliers also shift to clean power. Jackson continues to lead the company to find innovative sustainability solutions, including investing in forests to help fight climate change.
To learn about more women "eco-warriors" at Amazon and Google, go deep here. LINK
---
Issue No. 21
Welcome to the latest issue of Carbon Creed - a curated newsletter for people "woke" on carbon and climate. Last week our top articles were COVID-19 response is "no model" for climate action & Brandon Middaugh - director of Microsoft's $1 billion climate fund.
My name is Walter McLeod, and I'm glad you've joined our tribe! We hope to hear from you as we navigate this weekly journey through the good, bad and ugly of carbon and climate. You can ping me anytime at mcleodwl@carboncreed.com.
If you are a subscriber, THANK YOU, and please share this to a friend.
If you haven't subscribed, GIVE US A TRY, you can opt-out at anytime.
Now, LET'S GO DEEP!
---
CLEAN TECH
Tesla's killer app: solar power on its electric cars — starting with Cybertruck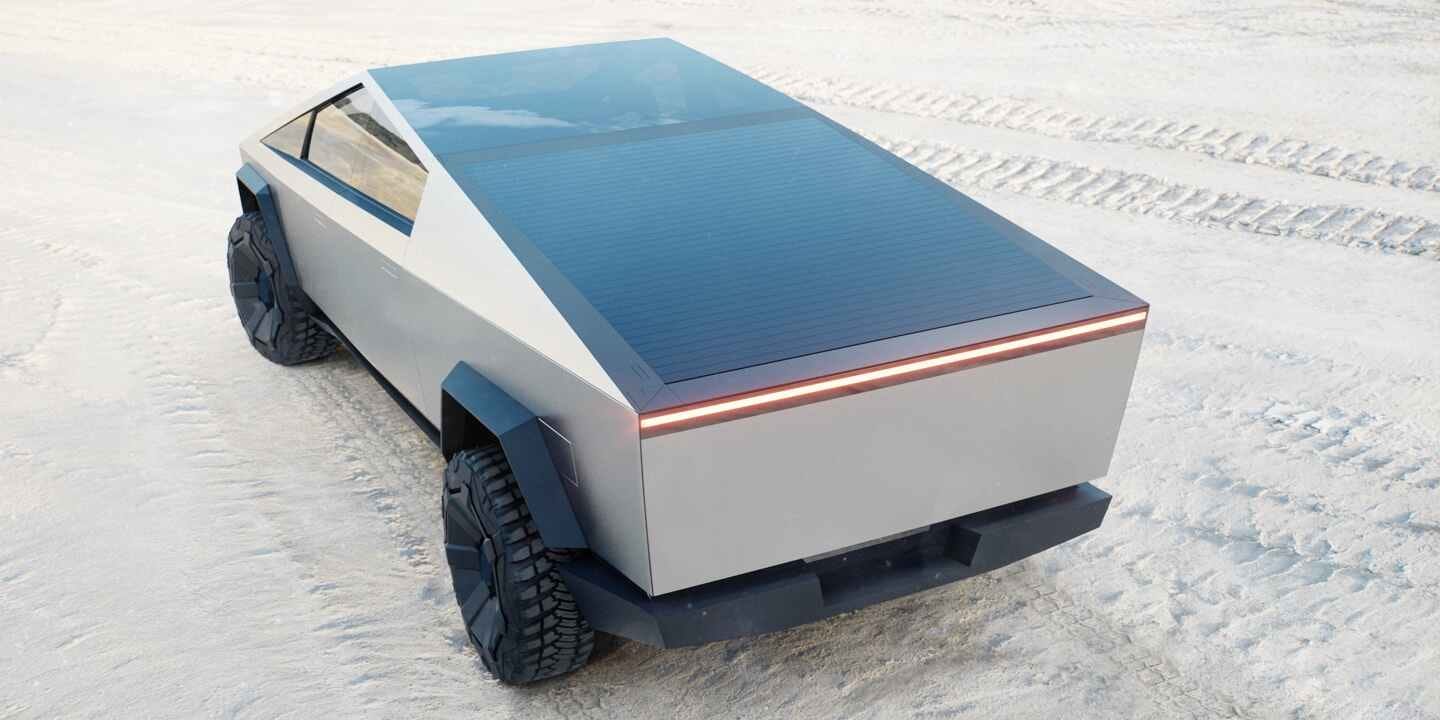 (source: Electrek)
Solar power on electric cars has yet to become a common feature, but Tesla is about to change that – starting with the Cybertruck electric pickup.

Electric Vehicle expert and Electrek writer Fred Lambert, has discussed solar roofs on EVs before, most recently with the one on the latest Prius Prime, but a recurring problem is that they rarely generate enough power to be worth it.
According to Lambert, the solar cells on the Prius Prime's roof were estimated to generate enough power to add about 2 miles of range during the day. However, solar power technology has been improving greatly, and it is increasingly starting to make more sense.
There are even startups, like Sono Motors and Lightyear, developing electric vehicles mainly powered through onboard solar power.
Tesla CEO Elon Musk has been looking into the idea for years.
In 2017, he said that he pushed his Tesla engineers to look into integrating solar cells on Model 3, but they concluded that it wasn't worth it at the time.
Two years later, things have changed.

After the launch of the Cybertruck, Musk said that Tesla's new electric pickup truck will have a solar roof option that will add 15 miles of range per day.
It's the first time that a solar roof system has been confirmed to be coming to a Tesla vehicle.
Tesla has yet to open the configurator for the Cybertruck and therefore, the price or availability of the solar roof feature for the Cybertruck is still unknown.
The automaker is aiming to release the Cybertruck in late 2021. Go deeper here. LINK
---
INSIGHTS
WIRED to Solve the Climate Crisis

(source: Wired)

Translated literally, the word "pandemic" means "pertaining to all people."

To date the novel coronavirus has spread to more than 170 countries around the world. It's an acute, rapidly unfolding crisis that we are facing all together, as an entire planet. But just before Covid-19 burst onto the scene, the editors at WIRED had been spending months thinking intensely about the more chronic, and more slowly unfolding crisis that pertains to everyone on Earth: Climate Change.
You could think of the coronavirus as a painful and very high-stakes practice round for facing an inexorable global threat: Its danger is bearing down on us whether we like it or not, but we can bend the curve in humanity's favor if we act together and make the right moves.
Wisely, the folks at WIRED chose not to focus on stories that would instill despair. Stories that would tell you, yet again, how bad things were. Or that would bother with the absurd debate about the existence of global warming.

"What can we do right now, with the tech we have, to make the biggest impact on the climate in the next ten years?" - WIRED

This excellent compendium on climate tech and policy covers a lot of ground – from carbon taxes to mobility to renewables. Here's an outline of the contents for your convenience:
Part I: Start – The Only Option Is to Act Now
Part II: Capture – How We'll Cut the Carbon
Part III: Nourish – How We'll Feed—and Save—the Planet
Part IV: Move – How We'll Drive (and Fly and Ride) Better
Part V: Renew – How We'll Push Fossil Fuels to Extinction
While you may not agree with every conclusion posited, you will find this special issue of WIRED well written and worth the time. Check it out here. LINK
---
Governments
COP26 climate change conference postponed until 2021 due to coronavirus
(source: En24 News)

This year's United Nations-sponsored climate talks, widely regarded as the most important climate meeting of the past four years, were postponed last week because of the coronavirus pandemic.
The session, known as the Conference of Parties, had been scheduled to take place in Glasgow for a week and a half in mid-November. It was postponed to 2021, the world body's climate agency and the host government, Britain, confirmed late Wednesday.

"In light of the ongoing, worldwide effects of Covid-19, holding an ambitious, inclusive COP26 in November 2020 is no longer possible" - British Government

The conference venue in Glasgow, an arena where tens of thousands of delegates from around the world were to have gathered, is being turned into a field hospital for people with Covid-19, the disease caused by the virus. Covid patients are also being housed in the convention center in Madrid where the Conference of Parties took place last December; Spain has one of the world's largest outbreaks.
The conference is vital to the world's ability to avert the worst effects of climate change.
"Soon, economies will restart…This is a chance for nations to recover better, to include the most vulnerable in those plans, and a chance to shape the 21st century economy in ways that are clean..safe and more resilient." - Patricia Espinosa, U.N. Climate Change Agency
It took more than 20 such conferences for countries to negotiate the landmark 2015 Paris Agreement, pledging to keep global average temperatures from rising well below 2 degrees Celsius, or 3.6 degrees Fahrenheit, compared to preindustrial levels.
The conference scheduled for November was particularly important because the goal was to spur countries to revise and strengthen their targets for greenhouse-gas reductions, as required by the Paris agreement every five years. Go deeper here. LINK
---
RESOURCES

---
Thanks for sharing your time with us!

If you enjoyed this newsletter but aren't yet subscribed, sign up for a free subscription below.
If you are a subscriber, THANK YOU AGAIN, and please forward this to a friend.
👋 Questions, comments, advice? Send me an email!
---
Curated by Walter McLeod, Founder and Editor-in-Chief of Carbon Creed and Managing Partner with Eco Capitol Energy.