Billionaire Climate Saviors, 10 Breakthrough Technologies & Apple's ESG Moment of Truth
For folks who read between the lines on climate and carbon.
(source: Adrian Lam / NBC News)
What's Behind the Billionaire Pivot to Save the Planet?
You might have heard that Amazon CEO and occasional richest-man-in-the-world, Jeff Bezos announced he was committing $10 billion — 7 to 8 percent of his massive fortune — to an initiative to combat climate change, dubbed the Bezos Earth Fund.

Bezos' change of heart aligns him with other powerful people. Former Republican New York mayor and current candidate for the Democratic presidential nomination Mike Bloomberg pledged $500 million to shut down coal plants across the United States. And earlier this month, the Bill and Melinda Gates Foundation, which has around $47 billion in its ever-growing endowment, added climate change to its philanthropic priorities.

It might seem that having wealthy individuals and multinational corporations promising so much money for climate initiatives would be a good thing. But it's much more complicated than just rich people trying to make the planet a better place.

Anand Giridharadas, author of "Winner Takes All," has emerged as one of the chief critics of this recent spate of billionaire philanthropy. Giridharadas writes that for all their talk of changing the world through charitable giving, what elites offer is a "fake change."
"Part of the reason billionaires can swoop in and position themselves as the saviors is that government has failed to take bold action." - Anand Giridharadas
I certainly am not one to reject sincere efforts to fight climate change – regardless of who provides the funding. However, Billionaire philanthropy will not alter the regulatory structure that created the problem in the first place. For that, we need the government to redirect subsidies from fossil fuels to renewables, change the tax code to penalize unsustainable industries, alter regulations to encourage denser development and ultimately set a framework that's more favorable to workers and communities that have been left behind these past few decades. LINK
---
Issue No. 16
Welcome to the latest issue of Carbon Creed! Last week our top two articles were Climate Change Rises as a Public Priority & The Coronavirus's Lesson for Climate Change
My name is Walter McLeod, and I'm glad you've joined our tribe. We hope to hear from you as we navigate this weekly journey through the good, bad and ugly of carbon and climate. You can ping me anytime at mcleodwl@carboncreed.com.
If you are a subscriber, THANK YOU, and please share this to a friend.
If you haven't subscribed, GIVE US A TRY, you can opt-out at anytime.
Now, LET'S GET TO IT!
---
CORPORATE CITIZENS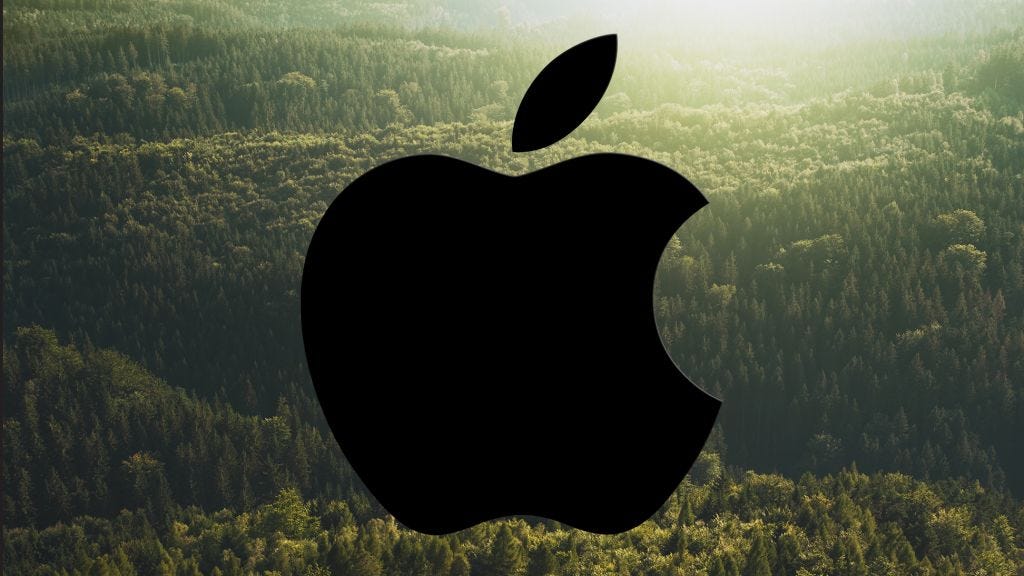 (source: tech-radar)
Apple Investors say "No" to ESG-linked Executive Compensation
Apple shareholders have rejected a proposal relating to sustainability and executive compensation, which the board had also opposed.
The tech firm faced the shareholder proposal on Wednesday at its base in Cupertino, California. The ESG proposal requested that the board's compensation committee prepare a report 'assessing the feasibility of integrating sustainability metrics into performance measures, performance goals or vesting conditions that may apply to senior executives under the company's compensation incentive plans.'
The proposal defined sustainability as 'how environmental and social considerations, and related financial impacts, are integrated into corporate strategy over the long term.'
The board had recommended that shareholders vote against the measure. It wrote in the proxy statement that 'Preparing a report to assess the feasibility of integrating sustainability metrics into the incentive compensation plans of our senior executives would not further the environmental and social ideals that we already embrace in our business practices.'
'"An effective approach to sustainability, as that term is defined by the proponent, requires more than simply tying executive compensation to the achievement of [ESG] goals."
- Apple Board of Directors
Linking executive compensation to ESG-based metrics is expected to be an increasingly common shareholder request as pressure grows for companies to take such issues into consideration in terms of disclosure and strategy. In Apple's case, the measure received 312,936,051 votes in favor but 2,282,664,277 against, according to an SEC filing. LINK
---
GOVERNMENTS

(source: European Commission)
How Fighting Climate Change Gave the EU a New Reason to Exist
On her first day as head of the European Commission, Ursula von der Leyen stood in front of world leaders at the UN climate conference in Madrid and promised to make Europe the world's first carbon neutral continent within the next 30 years.
Commissioner von der Leyen argued that the plan would not only position Europe at the forefront of the fight to limit global warming, it would also drive a new wave of economic development and help bind the continent together. She's since described the proposal as a moonshot, but it's considerably more than that. The EU would need to mobilize as much as 260 billion euros ($283 billion) annually over the next decade to build green infrastructure. That's not an Apollo program—that's one Apollo program per year.
That this "Green New Deal" has advanced so rapidly is a compelling statement of how a powerful European alliance of business, policy, and science experts worked behind the scenes to put climate front and center for the continent's future. LINK

---
CLIMATE TECH
10 Breakthrough Technologies for 2020
Here is the MIT annual list of technological advances that they believe will make a real difference in solving important problems. Among this year's selections is a Climate Change Attribution System, where researchers can now spot climate change's role in extreme weather.
How do they pick the list? Avoid the one-off tricks, the overhyped new gadgets. Instead look for those breakthroughs that will truly change how we live and work. LINK
---
READING
We have just entered the most consequential decade in human history.
The scientific assessment of climate change suggests this can either be our final hour, or our finest. The Future We Choose is an inspiring manifesto from Global Optimism Co-Founders, Christiana Figueres and Tom Rivett-Carnac. It explains what's to come, how to face it and what we can do.
Practical, optimistic and empowering, this is a book for every generation that shows us how we can move beyond the climate crisis into a thriving future. LINK
This book recommendation is courtesy of Stuart Smits, a weekly subscriber and friend of Carbon Creed. Thanks Stuart!
---
RESOURCES

---
Thanks for sharing your time with us!

If you enjoyed this newsletter but aren't yet subscribed, sign up for a free subscription below.
If you are a subscriber, THANK YOU AGAIN, and please forward this to a friend.
👋 Questions, comments, advice? Send me an email!
---
Curated by Walter McLeod, Founder and Editor-in-Chief of Carbon Creed and Managing Partner with Eco Capitol Energy.