Microsoft, Climate Guilt and 12 Cool Features of CYBRTRCK
A newsletter for people serious about tech and the low carbon economy.
This is Issue No. 3 of Carbon Creed. Last week we had an open rate of 40% and our most read article was Jeff Bezos's Master Plan: Climate, Space and eCommerce (The Atlantic).
My name is Walter McLeod, and I'm so glad you've joined our tribe! I hope to hear from you regularly, as we navigate this weekly journey through the good, bad and ugly of carbon and climate. My email is mcleodwl@carboncreed.com.
If you're not a subscriber, let's fix that now by putting your email in the box below
If you are a subscriber, THANK YOU SO MUCH, and please forward this to a friend.
Now, let's GO!
---
CORPORATE CITIZENS
Should Bill Gates Stay Out of Climate Politics?
In an interview at the New York Times' Dealbook conference, Gates was asked whether he would vote for Senator Elizabeth Warren over President Donald Trump in a 2020 match-up. Gates refused to choose, saying he would pick "whoever I decide would have the more professional approach." Is this response acceptable given Gate's wealth? Does wealth matter? HEATED (photo credit: Getty)
---
Fortune Names Microsoft's CEO Nadella Businessperson of the Year
"Take raw energy transition. We share global resources. Global norms come because of our interdependence. Climate is a shared resource. We better have a plan for energy transition as a global community. Every government in every country should care about that."
- Satya Nadella
Satya Nadella, a computer scientist, was neither a founder like Bill Gates, nor a big-personality sales leader like his predecessor, Steve Ballmer when he was named the "surprise choice" to lead the Microsoft in 2014. Get to know leader of the world's most valuable company in this revealing interview. GeekWire (photo credit - Getty)
---
Microsoft Employees Protest the Company's 'Complicity in the Climate Crisis'
Microsoft workers have released a letter protesting the company's work with oil companies, and say they've been made "complicit" in contributing to climate change. "It is imperative that all tech companies stand together, denounce the usage of Cloud and AI services for non-renewable energy extraction." The Verge
---
Bill Gate's New Book is About Climate Change
"I am writing this book to help identify how we can work on a local, national, and global level to build the technologies, businesses, and industries to avoid the worst impacts of climate change." - Bill Gates
In "How to Avoid a Climate Disaster: The Solutions We Have and the Breakthroughs We Need," Gates will explain why he cares so deeply about climate change and what makes him optimistic that the world can prevent the worst impacts of the climate crisis. The book is scheduled to be released on June 24, 2020. The Hindu Business Line
(photo credit - Axios)
---
GOVERNMENTS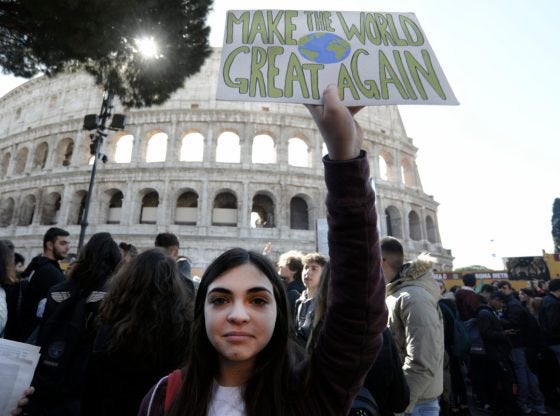 Italian Law to Require Climate Change Education in Grade School
Starting next year Italian schools will be required by law to study climate change in every grade. This will make Italy the first country to have mandatory coursework focused on climate in all public schools. The announcement came on the heels of historic flooding in Venice. Forbes
---
U.S. Senators Want the Fed to Better Prepare Banks for Climate Change
Lawmakers believe the central bank needs to 'stress test' banks for severe-weather events.
While the Fed's official mission is to promote stable price inflation and maximum sustainable job growth, climate change moved onto the central bank's radar this year. The Federal Reserve Bank of San Francisco held earlier this month a first-ever conference on climate change and central bank policy. Wall Street Journal
---
Will India Achieve its Ambitious CO2 Emission Target?
In short, probably not.
Three-quarters of India's energy demands are met by fossil fuels, and coal is the dominant source of its energy consumption. With the third-largest coal reserves in the world, it stands out to be a significant player in India's economic sector. Coal, which is also the largest source of electricity in the world, meets about 72% of India's electricity demands. Apart from taking care of India's energy consumption needs, it is also a major employer in the market. The state-owned Coal India alone employs 3,00,000 people.
India must completely revamp its climate policies to have a chance at meeting its CO2 targets. Youth Kia Waaz
---
INSIGHTS
Climate Apocalypse Got You Down? Maybe This Will Help
"Have you ever known someone who cited the Anthropocene in a dating profile? Who doled out carbon offset gift certificates at the holidays? Who sees new babies and immediately flashes to the approximately 15 tons of carbon emissions the average American emits per year? Who walks around shops thinking about where all the packaging ends up? You do now."
Searching to cure climate crisis grief? Kara Buckley, a reporter for The Times can relate. NY Times
---
Why the Hottest Global Warming Battle is in the Courtroom
Forget the campaign trail and Congress. The real debate on climate change is happening in the courtrooms of cities and states. Amy Harder digs into the details @ Axios
---
What if All That Flying Is Good for the Planet?
"With the holiday season fast approaching, many climate-conscious people may be wondering: Is my planned vacation for the other side of the world ethically indefensible? But let's try another question: If we really did all stop flying, would that save the planet? The counterintuitive answer is that it might actually do the opposite." - Costas Christ
Without tourism, it's easy to imagine the Serengeti turned into cattle ranches. That's the case made by Costas Christ, founder of Beyond Green Travel. NY Times
---
CLEANTECH
The 12 Coolest Features of Tesla's CYBRTRCK Pickup
(in pictures)
Tesla's CYBRTRCK pickup made its global debut Thursday night to roaring cheers, some criticism and sighs of relief from Detroit automakers. The pickup features a unique trapezoidal design that's unlike anything ever produced outside of sci-fi movies. The truck will be available in 2021. Business Insider
---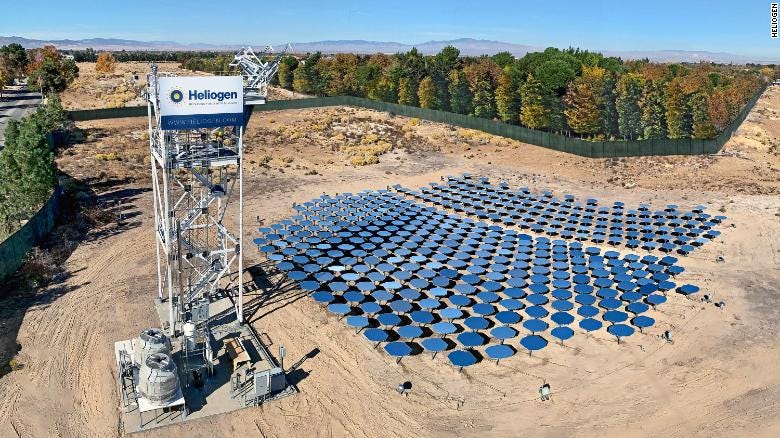 Secret Energy Startup Backed by Bill Gates Achieves Solar Breakthrough
Heliogen, a clean tech startup company founded by serial entrepreneur and inventor Bill Gross — and backed by investors including Microsoft co-founder Bill Gates — says it has developed a way to create concentrated solar energy at temperatures hot enough to replace fossil fuels in industrial processes that contribute significantly to global carbon emissions.
It works by using cutting-edge computer vision technology to align a large array of mirrors to reflect sunlight to a precise target. The process creates immense heat, exceeding 1,000 degrees Celsius (1,832 Fahrenheit), that can replace traditional fuels such as coal, gas and oil in the production of materials such as cement, steel and petrochemicals. GeekWire, CNN
---
Pulling CO2 Out of the Air and Using it Could be a Trillion-Dollar Business
Use more; emit less. That is the basic idea behind carbon capture and utilization (CCU), one of the hottest topics in clean energy these days.
It is well understood at this point that carbon dioxide is a deadly pollutant that is heating the atmosphere. What's less well understood is that CO2 is also a useful feedstock, an input into a variety of industrial processes. From plastics to concrete, CO2 is a basic industrial building block — a valuable commodity.
To many climate campaigners, this suggests that maybe we should use more of it. Maybe, if the industries that use CO2 could be incentivized to increase their use, we could use enough to substantially decrease the amount we emit into the atmosphere. This is a great deep dive on CCU for newbies. Vox
---
RESOURCES
The Keeling Curve a daily record of global atmospheric carbon dioxide concentration, by Scripps Institution of Oceanography at UC San Diego.
Congressional Policy Tracker a summary of current federal energy legislation before Congress in ten different areas.
Click Clean find out if your favorite apps and tech company are powered by renewables or dirty energy.
---
Thanks for sharing your time with us!

If you enjoyed this newsletter but aren't yet subscribed, sign up for a free subscription below.
If you are a subscriber, THANK YOU AGAIN, and please forward this to a friend.
👋 Questions, comments, advice? Send me an email!
---
Curated by Walter McLeod, Founder and Editor-in-Chief of Carbon Creed and Managing Partner with Eco Capitol Energy.
---
Thanks for subscribing to Carbon Creed. This post is public, so feel free to share it.