ESG is strangled, college conservatives for climate, hydrogen flames out & Biden's posse
The newsletter for people "woke" on carbon and climate.
"We need Joy as we need air. We need Love as we need water. We need each other as we need the earth we share." MayaAngelou
Credo: We need to tackle carbon emissions and climate change to live.
---
SUSTAINABILITY
(source: 401K Specialists)
U.S. Department of Labor tries to "strangle" ESG investing
Last week, the Department of Labor proposed to restrict, if not outright eliminate, environmental, social, and governance (or ESG) investment practices.
The DOL oversees private-sector retirement schemes, meaning that its regulations apply to corporate pensions and 401(k) plans. Its mandates do not apply to retail investment accounts, nor to non-corporate institutional portfolios, such as Yale's endowment fund or the nation's largest pension, CalPERs, which serves California's public employees.
Thus, if the DOL's proposal is approved, it would not destroy ESG investing in the United States. Nonetheless, the DOL supervises $9 trillion in assets--about 30% of the value of the U.S. stock market. That would be a painfully large marketplace for ESG managers to forgo. What's more, the DOL's action could conceivably spark similar measures by other regulators.
The DOL's logic:
By ERISA law, fiduciaries are "required to act solely in the interest of the plan's participants and beneficiaries."

"Solely in the interest" means "solely in the financial interest." Arguments that ESG investing improves the general welfare are moot, as are claims that the plan's beneficiaries would wish for such an investment approach. All that matters are the dollars and cents.

Since ESG investing considers more than dollars and cents, it fails ERISA's standard.

The final item, that ESG investing considers aspects besides profits, is the DOL's dagger. It is also deeply ironic. A key difference between ESG and its predecessor, "socially conscious investing," is that socially conscious managers implicitly admitted that their strategies might reduce their returns, while ESG investors do not. Socially conscious investors used negative screens to eliminate stocks that violated their beliefs. In contrast, ESG investors seek positive attributes, which they claim will make their companies better investments.
For example, ESG investors obviously expect the third part of their acronym, governance, to improve their portfolios' performance. Their environmental and social concerns less clearly reflect self-interest, but ESG managers maintain that environmental and social concerns pose material risks that investors must consider, and that companies that manage such risks well will make their businesses more sustainable. At worst, they won't hurt.

I am skeptical that ESG investing will persist under ERISA if this proposal passes in its current form, unless ESG providers can skirt the rule by altering their language.
- John Rekenthaler, Morningstar

As worded, the DOL's proposal raises the following question. If an ESG manager modifies its marketing language, can it wriggle free of the DOL's constraints? Would it be legally protected if it removes all suggestions of making the world cleaner, or improving community relationships, and instead couches its ESG policies as being adopted solely from self-interest, so that it can outperform its competitors over the long term by owning companies that are more sustainable? Go much deeper here LINK.
Partisan differences aside, the proposal also involves a tussle between government and the marketplace. As Bloomberg's Matt Levine points out, each of those two sides thinks that it is best positioned to make such decisions. "The people making environmental, social, and governance issues should be the government, says the government; the asset managers and pension funds had better stick to making money." Go deeper here LINK.

Creed Comments: This is how government ruins a good thing. Morningstar's John Rekenthaler said it best, "the problem is that each administration undoes the work of its predecessor….the outcome would be steadier if the marketplace were to take the lead." We couldn't agree more.
---
Issue No. 34 - July 5, 2020
Welcome to the latest issue of Carbon Creed - a curated newsletter for people "woke" on carbon and climate.
My name is Walter McLeod, and I'm glad you've joined our tribe! We hope to hear from you as we navigate this weekly journey through the good, bad and ugly of carbon and climate.
Holiday's like the 4th of July tend to cause us to reflect on life and the more important things - friends and family. In this issue, we focus on timely issues like Joe Biden's announcement of a Climate Advisory (aka, the "posse). College conservatives for climate change are making their voice heard. ESG is under attack by the Department of Labor. And finally, we set the record straight on hydrogen vs battery powered electric vehicles (it's not even close). I hope you like the menu.
As always, feel free to ping me at mcleodwl@carboncreed.com.
If you are a subscriber, THANK YOU, and please share this to a friend.
If you haven't subscribed, GIVE US A TRY, you can opt-out at any time.
Now, LET'S DIVE DEEP!
---
---
CLEAN TECH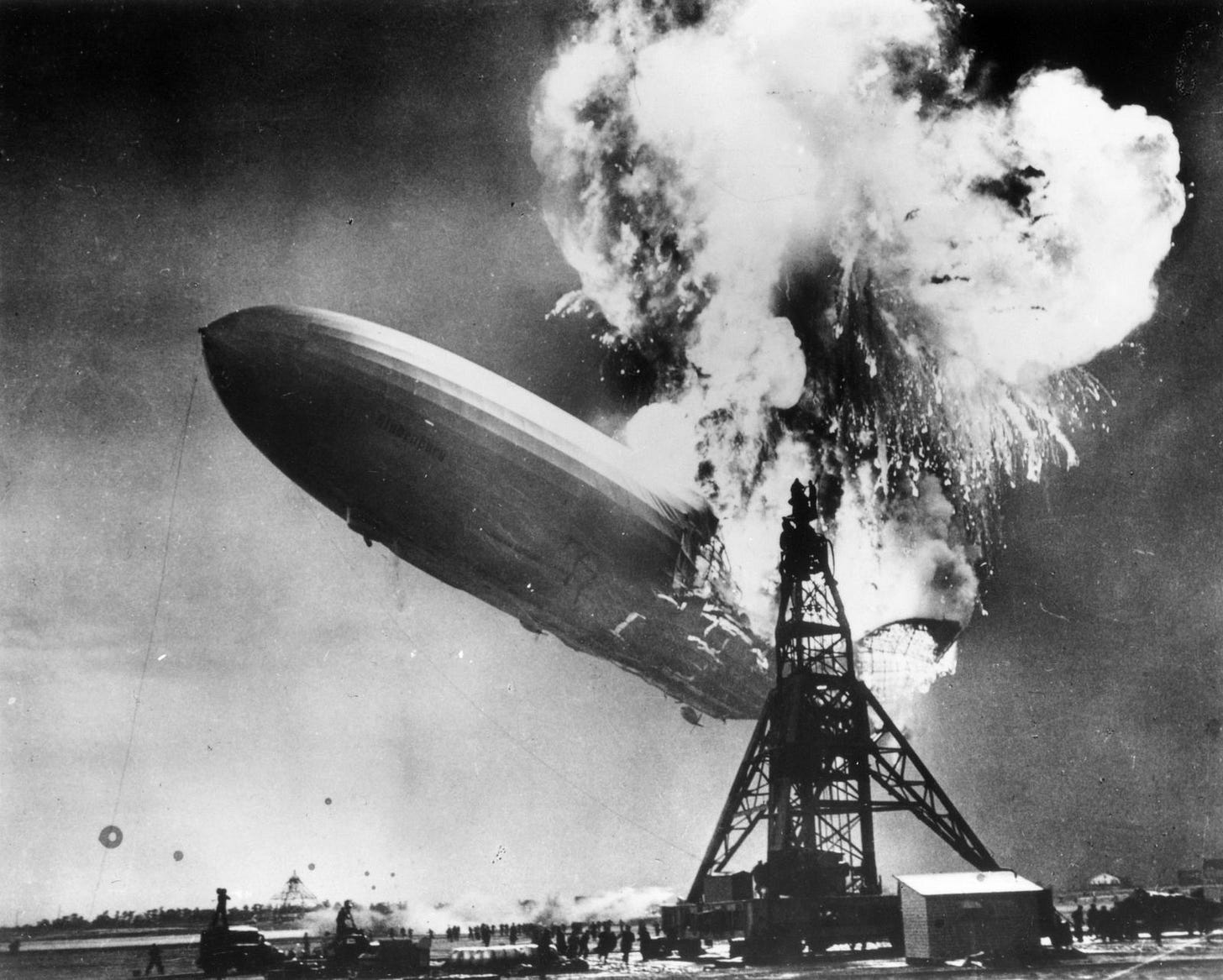 (source: Smithsonian Magazine)
Why hydrogen is not the future of electric vehicles
A decade ago, it seemed like there were two potential contenders to replace fossil fuel for personal transportation – electricity and hydrogen. The hydrogen option had a lot going for it. You could fill your car up just like fossil fuel, but instead of noxious gases coming out of the tailpipe, the exhaust would just be pure water vapour. Compared to waiting around for an EV's battery to recharge, hydrogen appeared to be the much more convenient option.
Today it is very clear that battery electric vehicles (BEVs) are dominating the shift towards more environmentally friendly transport instead. By the end of 2019, only 7,500 hydrogen cars had been sold around the world. But by the end of 2018, there were already over 5 million plug-in electric vehicles (PEVs) globally, and sales have been accelerating considerably since then. The BEV segment within this has never been less than 55% and is now more like 75%.
Explosion Risks
So why haven't hydrogen fuel cell vehicles (FCVs) taken off in the same way as BEVs, considering their convenience? Safety, safety safety. In June 2019, a chemical plant producing hyrdogen in Santa Clara exploded, leaving FCV users in California short of fuel, and just a few days later a refueling station in Sandvika, Norway also went up in flames. Yes, hydrogen can be a dangerously explosive gas – as if we didn't know it already. I haven't heard of any cases of the cars themselves detonating, and the fuel tanks are now Kevlar-lined to protect against this explosive possibility.
Efficiency and Costs
If one of your main goals is zero emissions mobility, BEVs are considerably more energy efficient than FCVs, when you take into account the whole series of steps between power generation and propulsion. With a BEV, once the electricity is generated – hopefully from a renewable resource – the supply of this to your vehicle charging location loses about 5%. The charging and discharging of the battery then lose another 10%. Finally, the motor wastes another 5% driving the vehicle. That makes for a total loss of 20%.
With a FCV, however, you first have to convert the electricity to hydrogen via electrolysis, which is only 75% efficient. Then the gas has to be compressed, chilled and transported, which loses another 10%. The fuel cell process of converting hydrogen back to electricity is only 60% efficient, after which you have the same 5% loss from driving the vehicle motor as for a BEV. The grand total is a 62% loss – more than three times as much. That's a huge inefficiency if you want zero emissions, and doesn't even take into account the fact that 95% of hydrogen is currently generated from carbon based fuels.
Cathie Wood, CEO of ARK Invest lays out the economics in this CNBC segment.
Go deeper with James Morris, editor of independent electric vehicle website WhichEV, here LINK.
Creed Comments: With the exception of a few niche markets: BEVs win. FCVs lose. Game. Set. Match. Sorry Toyota.
---
INSIGHTS
(source: WSJ)
College conservatives say climate change is real - what say their parents?
There's a new voice emerging on college campuses harkening the risks of carbon and climate. The American Conservation Coalition Campus is a nonprofit group of conservatives that acknowledges climate change is real and caused by human activity, and embraces environmental causes. But unlike more liberal environmental organizations, the group's approach also states that natural gas and nuclear energy should be part of a climate plan. The ACC has chapters on 220 college campuses.

The organization was started by Benji Backer, who graduated this year from the University of Washington with a degree in marketing, and supports free-market solutions to climate change, chiefly through technological innovation. He noted that the U.S. Environmental Protection Agency was created under Republican President Richard M. Nixon and that conservatives including President Theodore Roosevelt long embraced environmental issues.

For younger conservatives, there is no "disbelief" that humans are having an impact on the climate. "We're trying to fix the generational divide"- Benji Backer, Founder ACC Campus

Backer, who has referred to himself as a "Never Trump" conservative, said he found it frustrating talking to conservatives about environmental issues. So he started ACC Campus and aims for bipartisanship. He said conservatives skeptical about climate change often change their minds when told there might be free-market solutions.


ACC Campus has a climate contract that calls for innovation in energy and new infrastructure while acknowledging an "undeniable link between human activity, particularly greenhouse gas emissions, and climate change."
In mid-June, ACC Campus launched a weeklong ad run on Fox News to nudge the Trump administration and Congress to make "conservation and energy innovation a critical part of any post-COVID-19 recovery package."
A recent Pew Research Center report shows millennial and Gen Z Republicans, ages 18 to 39, have differing opinions from older Republicans on key issues related to climate, environmental protection, and energy production.
Younger Republicans are more likely than older ones to believe human activity is a cause of climate change. A bigger share of younger Republicans believes the government is doing too little to protect water and air quality, animal habitats, and open lands in national parks. And younger Republicans are also more apt than older ones to say the nation should prioritize developing alternative energy sources over expanding the production of fossil fuels. Go deeper here LINK.
Creed Comments: This is a good generational sign. I know there are skeptics that won't believe anything this kid says, but I say give him a chance. As long as he can avoid becoming tainted by political or corporate interests, his group could be a path to the movable middle on carbon and climate.
---
DECISION 2020
(source: Morning Consult)
Biden rolls out the "climate posse"
Joe Biden's campaign is unveiling a "Climate Engagement Advisory Council"aimed at "mobilizing" voters who prioritize climate change and environmental justice.
November's national election is a stark contrast between Biden, whose climate platform goes much further than Obama-era policies, and President Trump, who largely dismisses the climate problem and is rolling back his predecessor's initiatives.
Furthermore, activism stemming from the police killing of George Floyd is putting fresh focus on environmental justice — that is, addressing the disproportionate pollution burdens facing people of color and poor communities.
Members of the newly unveiled council include:
Several polls during the Democratic primary showed that climate change was among the top tier of voters' priorities, and formation of the council suggests the campaign sees a political opportunity there. Go deeper here LINK.

Creed Comments: Everyone on this list is good, but I don't see anyone under the age of 25. Is team Biden paying attention to what's going on? To execute effectively, Biden must tap into the rising tide of youth in the climate movement - ignore it at your peril.
---
RESOURCES

---
Thanks for sharing your time with us!

If you enjoyed this newsletter but aren't yet subscribed, sign up for a free subscription below.
If you are a subscriber, THANK YOU AGAIN, and please forward this to a friend.
👋 Questions, comments, advice? Send me an email!