Luxury wheels go vegan, Which race/ethnic groups care most about climate change & ESG "social" risks?
A newsletter for people "woke" on carbon and climate
(image: Bentley)
SUSTAINABILITY
Luxury wheels go "vegan" inside and out
The auto industry is shifting to electric vehicles, but can a car truly be green if the cabin is coated in leather and plastic?
As automakers move toward the electric future, recycled and sustainable materials — making the car lighter as well as greener — will line interiors.
These increasingly novel surfaces don't just challenge the staid leather, wood and wool template that has dominated the category since the time of royal horse-drawn carriages. They conform to the industry's, and customers', interest in more environmentally friendly options. Luxury brands are leading the way.
(image: Mercedes-Benz)

Mercedes-Benz has incorporated a host of new materials. Dinamica, a sueded fabric made from recycled plastic bottles and clothing fibers, covers seats. Karuun, a compressed timber product made from sustainably harvested rattan, is used on floors and dashboard trim.

"We are looking into what we call the 'underwear' of the car"
- Belinda Günther, Mercedes's head of color and trim
(image: Mercedes Benz)

Bentley has experimented with Vegea, a vegan leather made from grape skins, seeds and stalks. The automaker has trimmed dashboards in veneers from lumber felled 5,300 years ago and preserved in bogs, a replacement for cutting down live trees.
In their quest for environmental friendliness, designers are also considering simpler sustainable materials. These include glass, ceramics, hemp and even paper.

Many of these materials are also focused on saving weight, since lighter cars can travel farther on the same amount of electric charging.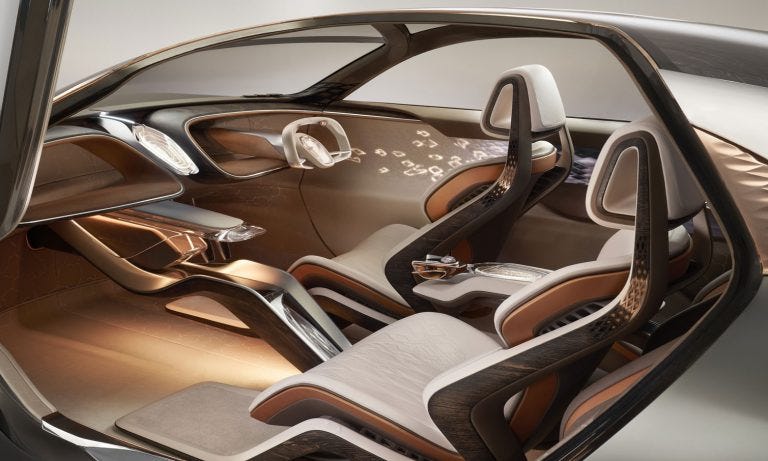 (source: Vegea)
This idea of creating a new design paradigm is crucial for auto manufacturers as they try to reinvent themselves for our battery-powered future — and for the tech-savvy early adopters they expect to make up their initial market. Go deeper here LINK
Creed Comments: The sustainable design trend is a welcome feature for electric vehicles, and I'm sure Tesla is watching very closely. Still, the most beneficial environmental change an automaker can enact is to produce more battery-powered electric vehicles.
---
Issue No. 30 - June 6, 2020
Welcome to the latest issue of Carbon Creed - a curated newsletter for people "woke" on carbon and climate.
My name is Walter McLeod, and I'm glad you've joined our tribe! We hope to hear from you as we navigate this weekly journey through the good, bad and ugly of carbon and climate.
Well, the year 2020 continues to be historic, but for reasons we don't usually address in this newsletter. The public outcry over the recent deaths of George Floyd, Ahmaud Arbery and Breonna Taylor has touched the conscious of our nation while still grappling with a global health pandemic. Much has been written and said about the ongoing struggle to overcome our history of racial struggles.
This week, I would like to share a few thoughtful articles that deal with the intersection of race and climate in a novel way. My goal is not to preach, but to share new perspectives and hope you'll find something in this series that resonates:
As always, feel free to ping me at mcleodwl@carboncreed.com.
If you are a subscriber, THANK YOU, and please share this to a friend.
If you haven't subscribed, GIVE US A TRY, you can opt-out at any time.
Now, LET'S DIVE DEEP!
---
INSIGHTS
Which racial/ethnic groups care the most about climate change?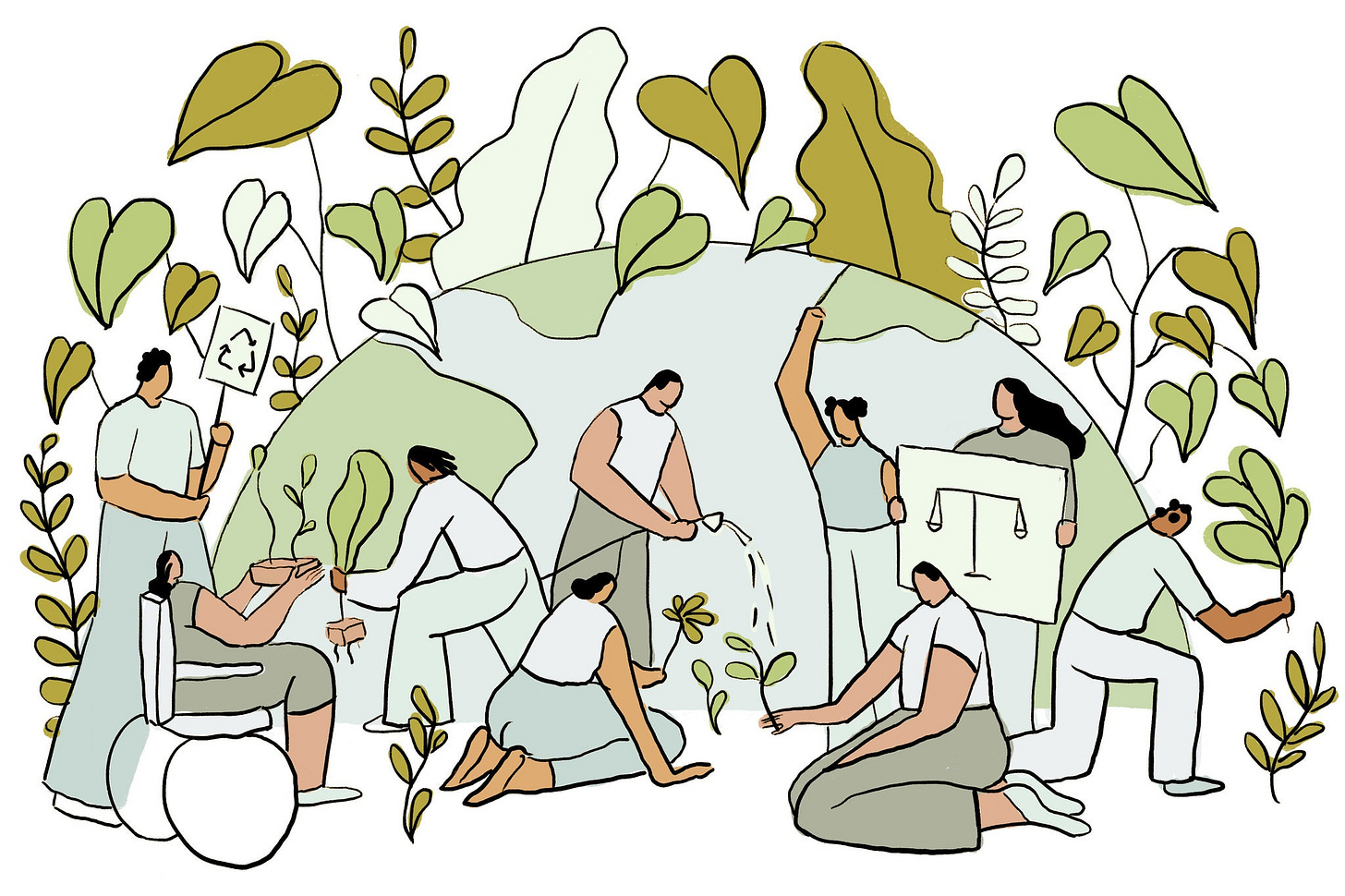 (image: Alexandra Bowman/NYT)
Climate change disproportionately affects members of disadvantaged communities and groups who face socioeconomic inequalities, including many people of color. As the United States becomes more racially and ethnically diverse, promoting public engagement with climate change across diverse audiences is becoming increasingly important.

A 2019 joint research project between Yale and George Mason University, has shown that people of color in the U.S., including Hispanics/Latinos, African Americans, and other non-White racial/ethnic groups, are more concerned than Whites about climate change. Hispanics/Latinos, in particular, tend to be the most concerned.

The project found that Hispanics/Latinos (69%) and African Americans (57%) are more likely to be Alarmed or Concerned about global warming than are Whites (49%). In contrast, Whites are more likely to be Doubtful or Dismissive (27%) than are Hispanics/Latinos (11%) or African Americans (12%).


Compared to Whites, Hispanics/Latinos and African Americans also report greater willingness to join a campaign to convince elected officials to take action to reduce global warming. More than one in three Hispanics/Latinos (37%) and African Americans (36%) say they would "definitely" or "probably" join a campaign, while about one in five Whites (22%) say so.


Understanding how various groups of people perceive and respond to climate, and why there are differences between groups, can help improve communication about climate change across diverse audiences, and more effectively support public engagement and action.
These data were produced from two bi-annual waves of the Climate Change in the American Mind survey – a nationally-representative survey of public opinion on climate change in the United States conducted by the Yale Program on Climate Change Communication and the George Mason University Center for Climate Change Communication. Go deeper here LINK
Creed Comments: That the majority of Americans across all three racial/ethnic groups are "Alarmed" or "Concerned" about climate change is welcome news. We will see if the climate "leaders" can cultivate these ripe interest groups, or if they fumble the ball going after the hard-core disengaged, doubtful and dismissive crowd.
---
CORPORATE CITIZENS
ESG investors wrap their heads around social risks
Covid-19 has brought out the best and the worst of the corporate world. On the one hand, some carmakers have shifted to producing ventilators, while others have drawn complaints for their lack of assembly-line protections for employees during the pandemic.
Such considerations touch on what sustainable investors call "social" risks - part of the environmental, social and governance (ESG) group of metrics that has grown popular in recent years. Climate change and extreme executive compensation have led investors to focus on the "E" and the "G". The pandemic brings the "S" into the limelight.
Social issues can range from the impact of employee demographics to relations with the local community or customers. Moody's, a rating agency, says that $8T of the debt it rates is exposed to social (S) risks—four times that exposed to environmental (E) risks.
There is little consensus on which social risks matter most. A green asset manager can assess a firm's carbon footprint; however, few gauges exist for socially minded investors. One exception is employee satisfaction, which studies link to a company's performance. But a focus on that alone can lead to perverse outcomes, by simply giving greater weight to companies with relatively few employees.
Other social factors, such as a company's culture, are harder to quantify. As a result, ESG-rating firms rely on inputs rather than outputs to calculate their scores, says George Serafeim of Harvard Business School. Instead of measuring gender balance, for instance, they ask if firms have a policy on diversity. Of the 61 questions underlying one rating firm's social score, 24 look at whether companies have a specific policy or code of conduct.
Whizzy data analysis might fill the gap. Thinknum Alternative Data, a research firm, looks at online reviews of companies written by staff members. Before employees at Wells Fargo, a bank, were found to be setting up fake customer accounts, they were complaining about having to do so.
RepRisk, another data firm, analyses news articles and think-tank reports. Its risk ratings for Johnson & Johnson, Purdue Pharma and Teva Pharmaceuticals were already high in 2017, before America's opioid crisis hit the headlines. All have since been sued for allegedly playing down the risks of prescribing opioids.
A third data firm, Truvalue Labs, assesses the sentiment of news coverage. Using this, Mr. Serafeim and researchers from State Street, an asset manager, found that positive coverage of a company's response to covid-19 was linked to smaller-than-average subsequent declines in stock market returns in February and March, controlling for size and industry.
The rigor is helpful, but the challenge will be showing that such data can be consistently useful for investors. Plenty to keep the number-crunchers busy. Go deeper here LINK

Creed Comments: The role of S in the ESG equation will only increase as the future of work evolves and we try to tackle centuries-old, institutional barriers to race and gender in the corporate workplace.
---
GOVERNMENTS
China builds world's first 1,000-mile "carbon free" ultra-high voltage line
China completed construction of a 22.6 billion yuan ($3.17 billion) ultra-high voltage electricity line that for the first time will transport only clean energy.
It's the first UHV line in the world built to transmit only carbon-free electricity, its developer, State Grid Corp. of China, said in a statement. It will allow more renewables to be developed in Qinghai and Gansu provinces and deliver the electricity all the way to central China.
China is promoting the technology, which allows long-haul transmission with little loss of power, to solve a vexing problem: Its energy resources are thousands of kilometers inland from its densely populated coastal regions.
Making this line available for only carbon-free sources can help China achieve two of its energy goals, boosting renewable energy consumption while reducing idle capacity. It could also drive more than 200 billion yuan and create almost 10,000 jobs in investments in renewables and other related industries.
The long-haul lines are also part of China's stimulus plan to revive its economy from the impact of the coronavirus pandemic. UHV projects may account for 13 percent of $205 billion that's likely to be spent by the nation this year on "new infrastructure," according to BloombergNEF. Go deeper here LINK

Creed Comments: In the global race to dominate clean technology, China has taken a big step forward with this project. The U.S. must make grid modernization and regulatory reform a national priority for any future infrastructure spending.
---
RESOURCES

---
Thanks for sharing your time with us!

If you enjoyed this newsletter but aren't yet subscribed, sign up for a free subscription below.
If you are a subscriber, THANK YOU AGAIN, and please forward this to a friend.
👋 Questions, comments, advice? Send me an email!