Losing the notorious RBG, battery day cometh & the expanding 'Teslaverse'
The newsletter for people "woke" on carbon and climate
Issue No. 44
Welcome to the latest issue of Carbon Creed - a newsletter for people "woke" on carbon and climate.
IN THIS ISSUE we honor the life and climate legacy of the late Supreme Court Justice Ruth Bader Ginsburg. Then we take a deep dive into the highly anticipated Tesla Battery Day (September 22, 2020), the expanding Teslaverse (the new mobility frontier) and how it came into existence (not a big bang). I really admire what Musk has done to decarbonize the world, and can't wait to hear his unique perspectives on the future of power, mobility, space and AI (did I miss anything?)

A SPECIAL OPEN THREAD will be posted on Wednesday, September 23, 2020 starting at 9am to discuss your thoughts and opinions on Tesla Battery Day and the future of decarbonization.
As always, we appreciate the value of your time.
Feel free to ping me anytime at mcleodwl@carboncreed.com.
If you are a subscriber, THANK YOU, and please share this with a friend.
NOW, LET'S GET TO IT!
---
GOVERNMENT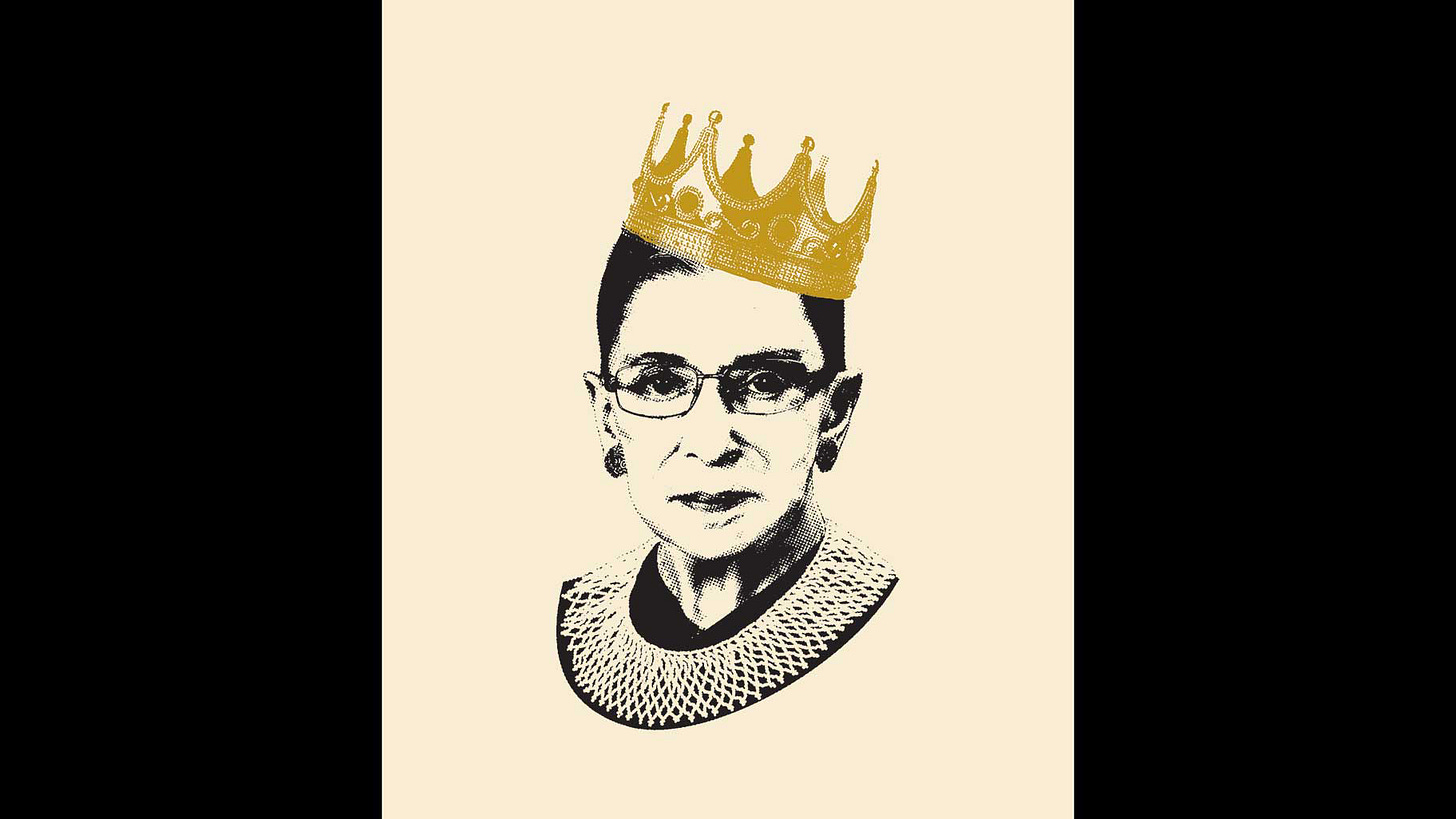 The notorious RBG: climate champion

We want to start this issue by acknowledging the recent passing of Justice Ruth Bader Ginsburg. Justice Ginsburg (affectionately known as RBG), who died Friday at age 87, had a profound impact on carbon and climate policy in the United States. She was instrumental in establishing the Supreme Court precedent that empowered EPA to address the greenhouse gas emissions driving climate change.
Ginsburg was part of the five-justice majority in the high court's first-ever ruling on climate change, 2007's Massachusetts v. EPA, that said the Clean Air Act gave EPA the authority — and, effectively, a mandate — to regulate greenhouse gases from automobile tailpipes.
Then in 2011, Ginsburg authored another ruling, American Electric Power v. Connecticut, that reiterated EPA's authority to target greenhouse gases — this time for a unanimous court.
While Ginsburg was a key voice in defining the Supreme Court's short history on climate law, she also has a long record of voting for other types of environmental protection. To learn more about her fascinating record on climate and environment, go deeper here LINK.
Creed Comments: Rest in peace Justice Ginsburg.
---
CLEAN TECH (Part 1)
Tesla Battery Day cometh!
Electric car giant Tesla is set to unveil innovations on the technology that powers its suite of vehicles early next week.
Known as "Battery Day," Elon Musk has long teased that his company is on the cusp of revealing news that could change the course of the EV industry, describing it in a Q1 2020 earnings call as "one of the most exciting days in Tesla's history."
Here's what we know so far about the imminent Tesla presentation.
What and when is battery day?
Broadly, it's exactly what it sounds like—a presentation based on showing off the new battery technology manufactured by Tesla or its business partners that will eventually be incorporated into its existing or upcoming ranges of electric vehicles. It is likely to be spearheaded by Musk himself, who typically handles main product reveals.
Battery Day will take place on Tuesday, September 22, immediately after Tesla's 2020 Annual Meeting of Stockholders, which is scheduled to start at 1:30 p.m. Pacific Time. It will be streamed live, so keep an eye on Tesla's Twitter, website and YouTube.
What is likely to be revealed?
The news likely to generate the most headlines is a so-called "million mile" battery back, which would extend the range an electric vehicle can handle over its lifetime.
Musk said at a Tesla event last year that new batteries would likely go into production this year and would be "designed explicitly for one million miles of operation."
In theory, they will offer higher-capacity power packs at a reduced overall cost—which should bring down the cost for consumers, opening up the luxury brand to those who previously couldn't afford the financial barrier-to-entry. It may also cut recycling costs. Electrek reported in 2019 that Tesla was working on a "battery recycling system."
"Tesla's new tabless 'Roadrunner' in-house cell with 1 million mile/4000 charge cycle capacity will be the final solution to permanently shift cost economics from petrol cars to EVs. 'Battery Day' may go down as one of the most seminal moments in automotive & industrial history," tweeted one financial analyst Mayur Thaker.

Reuters previously reported the battery tech was being made by China's Contemporary Amperex Technology Co Ltd. and "academic experts" recruited by Musk. The unit has reportedly found a way for batteries to store more energy for longer.
In June, a Tesla partner in China suggested it was already "ready to produce" such tech. This month, the Reno Gazette Journal reported that Panasonic—one battery-making partner—was expanding its presence inside Tesla's Nevada Gigafactory.
The scope of Musk's ambitions does not appear limited to electric cars, however. The announcements during Battery Day may include his Tesla Energy division. In the Q2 2020 earnings call, the CEO noted the "energy business collectively is bigger than the automotive business" and said it was critical to have a "sustainable energy future."
Go deeper here LINK

Creed Comments: YES, WE ARE LIVING IN THE LAST DAYS of the internal combustion engine (ICE). Are you prepared for the apocalypse? Fear not - you still have time to convert. Tesla Battery Day is coming on September 22, 2020. Elon (the messiah) Musk will share his vision of a decarbonized future, where electric vehicles (EVs) roam the earth. It's truly amazing to be alive to witness all of this.

Theatre + science + engineering = clean tech reality
---
CLEAN TECH (Part 2)
Exploring the Teslaverse

Giant new businesses are gearing up to support the switch from petrol to electricity. Besides changing the way cars are propelled, this requires batteries, software to ensure these work in harmony with motors, and data harvested from cars that may one day allow them to drive themselves. Over 250 firms are manufacturing electric motors. Forty-seven battery factories are under construction. Anjan Kumar of Frost & Sullivan, a consultancy, expects total new EV-battery capacity to go from 88 gigawatt-hours in 2019, enough to power Texas for less than two hours if plugged into the grid, to 1,400 gigawatt-hours in 2025. This is putting pressure on established automakers to align with tech companies on the software they need to stay relevant.

The total market capitalization of listed makers of exclusively electric cars now exceeds $400B. Add producers of batteries that go into them, and the EV-industrial complex, which makes fewer than 400,000 vehicles annually, is worth at least $670B (not counting miners of lithium and other battery minerals). That is nearly three-fifths as much as traditional carmakers, which churn out 86M cars a year, nearly all of them petrol-powered (see chart 1). Call it the Teslaverse.

Traveling through the Teslaverse
As that moniker suggests, Mr. Musk's firm sits at its center. In July it overtook Toyota as the world's most valuable carmaker, and kept accelerating—never mind that it made 370,000 cars against Toyota's 10m and a fraction of the Japanese firm's revenues (see chart 2). By August Tesla was worth over $450B. A market correction lopped a third off its share price but it has since rebounded. What would it mean to take it seriously, as investors appear to be?
Car sales could fall by 25% in 2020 owing to pandemic disruption. But the share of EVs on the road will continue to grow as emissions regulations tighten, the price of batteries falls and the choice of models expands. Next year three in every 100 cars sold will be pure electric or a plug-in hybrid. The share may rise to 20-25% by 2030, equal to 20M new EVs a year.

At the moment Tesla is the "apex predator"
- Adam Jonas, Morgan Stanley

Tesla has been manufacturing EVs at scale longer than any other carmaker and sells more of them. Its elevated share price translates into the lowest cost of capital in the business. A growing offering, with a van and pickup soon to hit the road, will widen its appeal. It attracts the best engineers and possesses in Mr. Musk, love him or loathe him, a leader with messianic zeal.
Mr. Kumar puts Tesla two to three years ahead of rivals in battery technology. Its batteries have a higher energy density, which means better range and lower costs. On September 22, 2020 Mr. Musk is expected to present plans for new production capacity and fresh battery technology. Together, this would extend Tesla's cost advantage.
A software company on wheels
The firm's edge is even more pronounced in software. Rainer Mehl of Capgemini, a consultancy, calls Tesla cars a "shell around the software and applications inside". Thanks to vertically integrated manufacturing, systems have been interlinked from day one.

As Olaf Sakkers of Maniv Mobility, an Israeli fund, explains, big carmakers have outsourced almost all their technology apart from internal-combustion engines to suppliers, and focused on assembly and marketing. This makes for a "bird's nest of complexity", says Mr. Sakkers. Tesla's software and mechanics are seamless by comparison.
All this software means a Tesla will improve with age, thanks to regular "over-the-air" updates with new features, bug fixes and even performance upgrades. This makes up for a sometimes shabby finish and questionable reliability. Other big carmakers are five years behind, says Luke Gear of idTechex, a consulting firm.
Electric power to the people's car
VW is leading the transition by legacy OEMs. It will spend $71B by 2025 on EVs and digitization. Carmakers typically develop 2-5% of software in-house. In an effort to reinvent itself as a software company, VW wants to boost its share to 60% by 2025. Other carmakers and suppliers harbour similar ambitions. Daimler's recent tie-up with Nvidia, a giant chipmaker, should allow remote updates by 2024. Aptiv already offers integrated software.
Big firms could create distinct units to lure outside capital and talent, and take risks. General Motors (GM) has the Cruise self-driving arm, BMW has iVentures and Toyota has its Mobility Foundation. Another tactic is to invest in startups. On September 8th GM said it would buy an 11% stake in Nikola, a controversial electric-truck firm, for $2B. Ford has backed Rivian, which hopes to crack the lucrative pickup market.
To survive in the Teslaverse, companies have to demonstrate they have valuable intellectual property that sets them apart, as many of the upstarts claim. But they must also prove they can sell and maintain their cars, where legacy carmakers have a long track-record. It is too early to divine the winners and losers. Even Mr. Musk's firm could falter. But his vision of an electric future is already emerging victorious.
Go deeper here LINK.

Creed Comments: To survive in the Teslaverse, companies have to demonstrate they have valuable intellectual property that sets them apart. But they must also prove they can sell and maintain their cars, where legacy carmakers have a long track-record. It is too early to declare the winners and losers (Even Tesla could falter). But Elon Musk's vision of an electric future is already emerging victorious.

Source: This post is adapted from the original which appeared in The Economist.
---
Quotes about Elon Musk & Tesla

'Never underestimate the man who overestimates himself'

- Charlie Munger, Berkshire Hathaway
(source: The Complete Investor)
"I've learned something terribly important in life…. These weird guys who overestimate themselves occasionally knock it right out of the park."

Charlie Munger, Berkshire Hathaway (February 2020)
---
A QUESTION FOR YOU:
In the EV future, will there be more or less vehicle manufacturers?
---
RESOURCES

---
Thanks for sharing your time with us!

If you enjoyed this newsletter but aren't yet subscribed, sign up for a free subscription below.
If you are a subscriber, THANK YOU AGAIN, and please forward this to a friend.
👋 Questions, comments, advice? Send me an email!