Human- vs Bio- diversity, failing the Paris clean tech goals, & how stimulus spending saved Tesla
The newsletter for people "woke" on carbon and climate.
(source: Grist)
INSIGHTS
Why human diversity is more important than biodiversity

Perhaps you knew that June 5th was World Environment Day (WED). You would be the exception - seems hardly anyone noticed. The 2020 theme of "biodiversity" may have been a factor. It feels out of step with current world events. This graphic speaks to that disconnect.

Sure, the ice caps are melting but my daughter can't breathe!

This is why no one noticed World Environment Day. While important, now is not the time to value biodiversity over human diversity. Look at what is working. Learn from covid-19 and peaceful marches. Our common humanity is what matters most.
---
Issue No. 31 - June 14, 2020
Welcome to the latest issue of Carbon Creed - a curated newsletter for people "woke" on carbon and climate.
My name is Walter McLeod, and I'm glad you've joined our tribe! We hope to hear from you as we navigate this weekly journey through the good, bad and ugly of carbon and climate.
As always, feel free to ping me at mcleodwl@carboncreed.com.
If you are a subscriber, THANK YOU, and please share this to a friend.
If you haven't subscribed, GIVE US A TRY, you can opt-out at any time.
Now, LET'S DIVE DEEP!
---
CLIMATE
Ethiopia will plant 5 billion trees to tackle climate change, but can it afford to?
(creator/source: Tiksa Negeri/Reuters)
Ethiopia is working on planting five billion trees this year, part of an ambitious plan to plant 20 billion seedlings by 2024 to help build a green climate resistant economy. The initiative, started by prime minister Abiy Ahmed, follows the Green Legacy Challenge project that claimed to plant a record 353 million seedlings on a single day, and a total of 4 billion last year.
But it comes as Ethiopia faces a ballooning budget deficit and a growing government expenditure with dwindling foreign investment in the wake of the coronavirus pandemic.
The new expenditure is budgeted to cost the country over 4 billion Birr, ($117 million) which is believed to be a conservative estimate and is now expected to likely cost twice as much due to cost of plants in urban areas.
Up to 84% of the seedlings planted last year have survived and that more than 20 million people were mobilized throughout the country for the effort, according to the prime minister.
The call to plant more trees is part of Ethiopia's national "Green Legacy" initiative, which according to the prime minister's office, aims to tackle deforestation and the effects of climate change by educating Ethiopians on the environment, and planting different "eco-friendly seedlings". Perhaps more than other countries, severe droughts, food shortages, and flash floods responsible for mass displacements of people has made the effects of climate change especially felt in the East African country.
But one challenge of planting trees across Ethiopia is that it might have the opposite of a beneficial effect and could even threaten some of the country's ecosystems. Scientists have worried that for the initiative to work, trees planted in the country's different ecological environments need to be tailor-made for their location. If the right trees are not planted in the environments for which they are a fit the "Green Legacy" might be doing more harm than good.
Over 90% of the country's estimated 110 million population obtain energy from biomass, but unsustainable harvest from natural forests resulted in the widening of the gap between supply and demand of forest. Go deeper at LINK

Creed Comments: The global effort to plant 1 trillion trees is going to face these types of economic challenges. No one said it would be easy. Kudos to Prime Minister Abiy Ahmed for showing true grit and climate leadership!
---
READING
Bloomberg launches "green"

(image: Bloomberg Green Magazine)

On June 9th, Bloomberg Media launched Bloomberg Green magazine, a quarterly collection of premier climate journalism. With a focus on solutions, readers will discover stories on science, environmental impacts, zero-emission tech, green finance, culture, and design, drawn from Bloomberg's global newsroom of 2,700 journalists and analysts in more than 120 countries. The new print product is part of the recently launched Bloomberg Green, a cross-platform editorial brand dedicated to reporting on climate change.

"The world has entered a new era of climate solutions, and this publication is going to be its chronicle." - Aaron Rutkoff, Editor of Bloomberg Green

The debut issue of Bloomberg Green magazine features a cover package exploring ways stimulus spending enacted in response to the Covid-19 virus can be used toward climate recovery; an introductory essay by Michael Bloomberg on why the coronavirus crisis will be a turning point for climate change; a feature package on plastic waste; an in-depth look at the nearing collapse of Australia's most important river system; a data project showing executives with direct links to clean energy rarely sit in leadership positions at leading U.S. and European banks; a review of an electric bike; and more. Go deeper here LINK

Creed Comments: Worth a reported $58 billion, Michael Bloomberg has long made bringing down carbon emissions a centerpiece of his philanthropic work. So, it's only logical (presidential aspirations aside) that he focuses his considerable resources on the business of climate change solutions. However, don't be surprised if there is more to this alliance with Amazon than meets the eye.
---
GOVERNMENT
How federal stimulus spending saved Tesla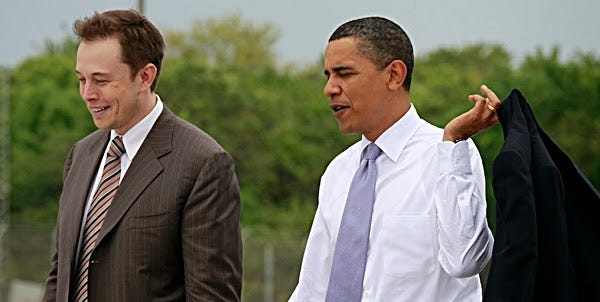 About a month after Barack Obama won the presidency, a cash-strapped Elon Musk made it clear that Tesla Inc.—then a boutique maker of a $109,000 sports car—would have to delay the rollout of a less expensive electric sedan unless it got government support. It was the middle of what was then the worst American financial collapse since the Great Depression, and the markets had just taken too much of a beating. "We can't move forward with that without a major amount of capital," Musk said in an interview in December 2008.

The plea was well-timed: The incoming president was keen to use part of the approximately $800 billion stimulus package his team was preparing to create a new green energy economy. One year after Obama took office, Tesla got a $465 million federal loan to design electric vehicles and build them at a manufacturing plant in Fremont, Calif. The company went public shortly thereafter, repaid the loan early, mainstreamed the electric vehicle, and now employs about 20,000 people in the Bay Area alone. It has the second-largest market capitalization of any automaker worldwide.

More than a decade after the financing came through, former heads of the office that approved it—a division of the U.S. Department of Energy known as the Loan Programs Office—point to the Tesla story as a best-case scenario for federal energy investment.
With the country's economy again besieged, Washington is consumed with talk of economic stimulus. Energy and infrastructure are obvious targets. What's less obvious given the country's current leadership is whether any of that will flow to the Teslas of the future.
The Energy Department's Loan Programs Office was established in the second term of George W. Bush's presidency to help commercialize innovative technologies, but it became a prolific lender during Obama's first term.
The office may be best known for one of its few failed investments: a $535 million loan guarantee to Solyndra LLC, a solar manufacturer in California that flopped in 2011 and became a political football for critics skeptical of governmental funding. Part of the public relations challenge the office faces is that it operates like a typical project-finance bank but has the ambitions of a venture capital firm. Go deeper here LINK

Creed Comments: Another Silicon Valley success story, funded in part by U.S. taxpayers. So, let's face it - we cannot decarbonize the U.S. economy without substantial federal investment. To get there, we should create a federal infrastructure bank that provides direct and indirect financial support for a broad array of projects. November 2020 sounds like a good timeline.
---
CLEAN TECH
Most clean tech is not on track to meet the 2015 Paris climate goals


(image: U.S. Department of Energy)

Most clean energy technologies and sectors worldwide are not advancing enough to meet the temperature goals set by the 2015 Paris climate agreement, according to a new analysis.
Of 46 clean energy categories that the International Energy Agency sees as crucial for minimizing the impacts of climate change, only six are "on track" to meet the target of preventing global average temperatures from rising 2 degrees Celsius or more, according to IEA's "Tracking Clean Energy Progress" report released this week.
The report identified energy sectors and technologies "not on track" to meet IEA's Paris-aligned sustainable development scenario (SDS) goals and offered suggestions for how sectors could further reduce emissions—or, in the case of renewable energy technologies, expand their impact in cost-effective ways, said Dave Turk, acting deputy executive director at IEA.

"[This report] is really trying to figure out which ones are doing their share to get us to the clean energy future that's been agreed to in the Paris Agreement," Turk said.

The 46 categories span power sectors, fuel supplies, industrial technologies, transportation, buildings, and energy integration technologies such as smart grids and direct capture of carbon dioxide. The six technologies considered on track are solar photovoltaics, bioenergy power, electric vehicles, rail, lighting, and data centers and transmission networks. Twenty-four other areas require more efforts to meet target numbers for 2025 and 2030, while the remaining 16 are off track entirely, the report said.
Improvements in renewable energy generation and energy efficiency encompass about 80% of the work needed to reach the SDS goals, Turk said. Go deeper at LINK

Creed Comments: It is important to understand what financially "viable" clean technology is and what it is not. I reviewed the IEA list and technologies like Concentrated Solar Panels (CSP) and Carbon Capture and Sequestration (CCS) are not financially viable. Paris politics aside, the IEA list needs to be pruned and updated to focus on clean technologies that pencil and scale.
---
RESOURCES

---
Thanks for sharing your time with us!

If you enjoyed this newsletter but aren't yet subscribed, sign up for a free subscription below.
If you are a subscriber, THANK YOU AGAIN, and please forward this to a friend.
👋 Questions, comments, advice? Send me an email!