Coronavirus is bad for Climate, the Lorax inspires Starbucks & Greentown Labs CEO Emily Reichert
A curated newsletter for people "woke" on carbon and climate.
(source: Boston Globe)
Meet Greentown Labs CEO Emily Reichert
Emily Reichert is CEO of Greentown Labs, which bills itself as the largest cleantech startup incubator in North America. As the company's first employee, Reichert has spearheaded the rapid growth of the Somerville incubator into a global hub for climate tech and cleantech innovation, attracting visitors and partners from around the world.
Listen to a fascinating interview as she takes us behind the scenes of this innovation factory. Ms. Reichert explains the differences between clean tech and climate tech while helping us appreciate the urgency of transitioning to a low-carbon economy. LINK
---
INSIGHTS
(source: MIT/Getty)
Why the coronavirus outbreak is "bad news" for climate change
It'll sap funding and political will - but actually, it should.
It appears increasingly likely that the global coronavirus outbreak will cut greenhouse-gas emissions this year, as deepening public health concerns ground planes and squeeze international trade.
But it would be a mistake to assume that the rapidly spreading virus, which has already killed thousands and forced millions into quarantine, will meaningfully reduce the dangers of climate change.
As with the rare instances when worldwide carbon pollution dipped in the past, driven by earlier economic shocks, diseases, and wars, emissions are likely to rise again as soon as the economy bounces back. In the meantime, as the virus leads to a full-blown global pandemic and economic crash, it could easily drain money and political will from climate efforts.
In fact, we absolutely should dedicate the bulk of our international attention and resources to the outbreak at this moment, given the grave and immediate public health dangers.
Still, the fear is that the highly contagious coronavirus could complicate the challenges of climate change—which presents serious, if longer-term, threats of its own—at a point when it was crucial to make rapid strides.
Indeed, the whole point of addressing global warming is to avoid widespread suffering and death. So it's important to keep in mind, as we game out the long-term consequences of the coronavirus outbreak, that the short-term impacts are clear: many, many people are going to become ill and die.
That's an unequivocally bad thing. And slowing the outbreak and providing proper care needs to be our highest priority right now. LINK
---
Issue No. 19
Welcome to the latest issue of Carbon Creed! Last week our top articles were What's the difference between carbon negative and carbon neutral?, Finance Can't Decide How It Wants to Deal With Climate Change, & 3 hard-won lessons from a decade of negative cleantech returns
My name is Walter McLeod, and I'm glad you've joined our tribe. We hope to hear from you as we navigate this weekly journey through the good, bad and ugly of carbon and climate. You can ping me anytime at mcleodwl@carboncreed.com.
If you are a subscriber, THANK YOU, and please share this to a friend.
If you haven't subscribed, GIVE US A TRY, you can opt-out at anytime.
Now, LET'S GO DEEP!
---
CORPORATE CITIZENS
(source: Fortune)
How a Dr. Seuss book inspired Starbucks' commitment to sustainability
When Starbucks president and CEO Kevin Johnson was asked by his 4-year-old grandson to read The Lorax together, he had no idea the tyke had picked an allegorical tale. Johnson was struck by the parallels in the Dr. Seuss book tothe story of environmental sustainability today. The next week Starbucks launched an internal initiative with a fitting code name: The Lorax Project.
CEOs like Johnson—ones who are fundamentally redefining the relationship between business and society. They're answering the call not just to turn a profit but to prove they are doing good in the world.
Starbucks was founded in 1971. (Coincidentally, The Lorax was published the same year.) The global coffeehouse chain is using its 50th anniversary next year as a milestone to make a new major commitment to the environment. As Johnson considers how to steer the company through its next 50 years, he's clear that sustainability will be an integral component. The focus of Starbucks' efforts will be a bold, multi-decade aspiration to be a "planet positive company."
"In a lot of ways our political infrastructure is not serving society as well as it needs to, and that creates an opportunity for the private sector to step up. I think, actually, businesses going forward are going to have to have a mission that goes far beyond the pursuit of profit, a mission that somehow contributes back to society in a way that creates a positive dynamic." Kevin Johnson, Starbucks CEO
With many companies starting to make public their plans for environmental issues, Carbon Creed commends Starbucks for having a more comprehensive plan than others. Consultants Wanliss-Orlebar noted, "It's not just a carbon commitment. They are looking at carbon and water and waste… Only when you start looking at those together can you start getting to strategies that go beyond offsetting." LINK
---
GOVERNMENTS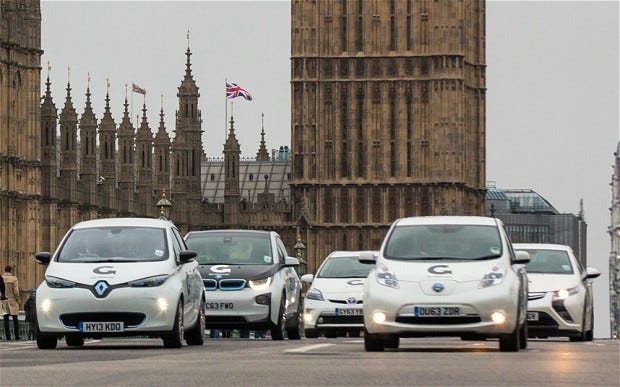 (source: the telegraph)
What the UK government must do to reach 100% electric vehicle adoption by 2035
Ambitious targets have been set by the UK government to become net-zero carbon economies by 2050. But a variety of initiatives will be required on the part of government, industry and society to achieve this target.
The UK government has announced its intention to ban petrol, diesel and hybrid cars by 2035. With a third of the UK's carbon emissions coming from road transport, the government's combative posturing is understandable. But is banning combustion fuel technology the most appropriate way to reduce emissions from road transport?
This is how we do it
There are two issues to consider: one, readiness of alternative technologies to replace petrol and diesel on a mass scale; and two, in a democratic society, bans should be used as only a measure of last resort.
There is overwhelming scientific evidence that smoking causes serious harm to a person's health to the extent it could kill them. But cigarette production is not banned. To control consumption of cigarettes, governments have introduced a wide range of legislation that limits their sale rather than banning their manufacture.
So rather than banning the production of petrol and diesel cars, governments should rapidly introduce effective policies that would make the cleaner technologies more attractive to users.
Research into the century-long decline of Dundee's jute textile industry suggests that for any new technology to break dependency on existing dominant technology it must address two conditions: price (compared to the existing cost) and technical performance.
Getting in gear
We are beginning to see performance issues addressed in electric cars. Many are now able to cover anywhere from 150 to 230 miles without recharging. Of course this is still far from what a diesel would offer on a full tank, but customers are gaining confidence.
Car manufacturers – existing makes and new players like Tesla – possess the technology to improve the performance of electric cars, and this will continue to advance. It is in their commercial interest to develop swiftly, to give them a competitive edge. But the main hurdle is price; electric cars are still more expensive than petrol and diesel cars – something industry bodies have emphasized.
Banning the production of petrols and diesels will not make electric cars cheaper. If the price of electric cars remains higher, it will only trap customers into a costly commitment. If the UK government is serious about facilitating this technology shift, it must provide serious long-term policies to help reduce the cost of electric cars.
There are two ways to make the price of electric technology more competitive. First, make owning petrol and diesel cars expensive by imposing a "gasoline car tax". This is currently practised in a mild version in the form of a congestion charge in many cities, and a higher car tax on diesel engines. But it has not helped to achieve the ambitious electric goal.
Imposing further tax such as additional fuel duty could make driving petrol and diesel vehicles more expensive – but without viable cheaper alternatives, it will not go down well with the electorate and could add to economic woes. The second, and recommended option, is to introduce incentives that make purchasing and running an electric car cost effective.
Today, many people have a genuine desire to buy an electric car. This market will only increase – customers are already sold on the benefits. But the price tag holds most back from making that final purchase decision. The trajectory of electric technology is at a critical juncture where a properly competitive price will convince buyers to make it their next purchase. And if the government gets it right, this model can be applied to other industries (and countries) where there is a pressing need to shift to lower-carbon technologies. Step correct UK - the US is watching. LINK
---
RESOURCES

---
Thanks for sharing your time with us!

If you enjoyed this newsletter but aren't yet subscribed, sign up for a free subscription below.
If you are a subscriber, THANK YOU AGAIN, and please forward this to a friend.
👋 Questions, comments, advice? Send me an email!
---
Curated by Walter McLeod, Founder and Editor-in-Chief of Carbon Creed and Managing Partner with Eco Capitol Energy.