Make Climate Allies not Enemies, Corporate Carbon Commitments & OZ
A newsletter for people serious about the low carbon economy.
---
We Can't Slow Climate Change Without the Energy Companies
(Source: Ina Fassbender/Agence France-Presse — Getty Images)

There is a real danger that the climate debate is deteriorating into a game of name-calling, with oil and gas companies all too often portrayed as opponents of climate progress. But polarizing the debate in this fashion will not get us any closer to solving the problem. We can achieve far greater and faster emissions reductions if environmentalists and energy companies work together.

Ted Halstead, the chairman and C.E.O. of the Climate Leadership Council, pleas for a truce between environmentalists and industry. We must make allies not enemies to win against climate change. NY Times
---
Issue No. 9
Welcome to the latest issue of Carbon Creed! Last week our top two articles were Clean Tech Trends to Watch In 2020 and Amazon Threatens to Fire Employees who speak out on Climate Change.
My name is Walter McLeod, and I'm glad you've joined our community. We hope to hear from you as we navigate this weekly journey through the good, bad and ugly of carbon and climate. You can ping me anytime at mcleodwl@carboncreed.com.
If you are a subscriber, THANK YOU, and please share this to a friend.
If you haven't subscribed, GIVE US A TRY, you can opt-out at anytime.
Now, LET'S GET TO IT!
---
GOVERNMENTS
Australia Will Lose to Climate Change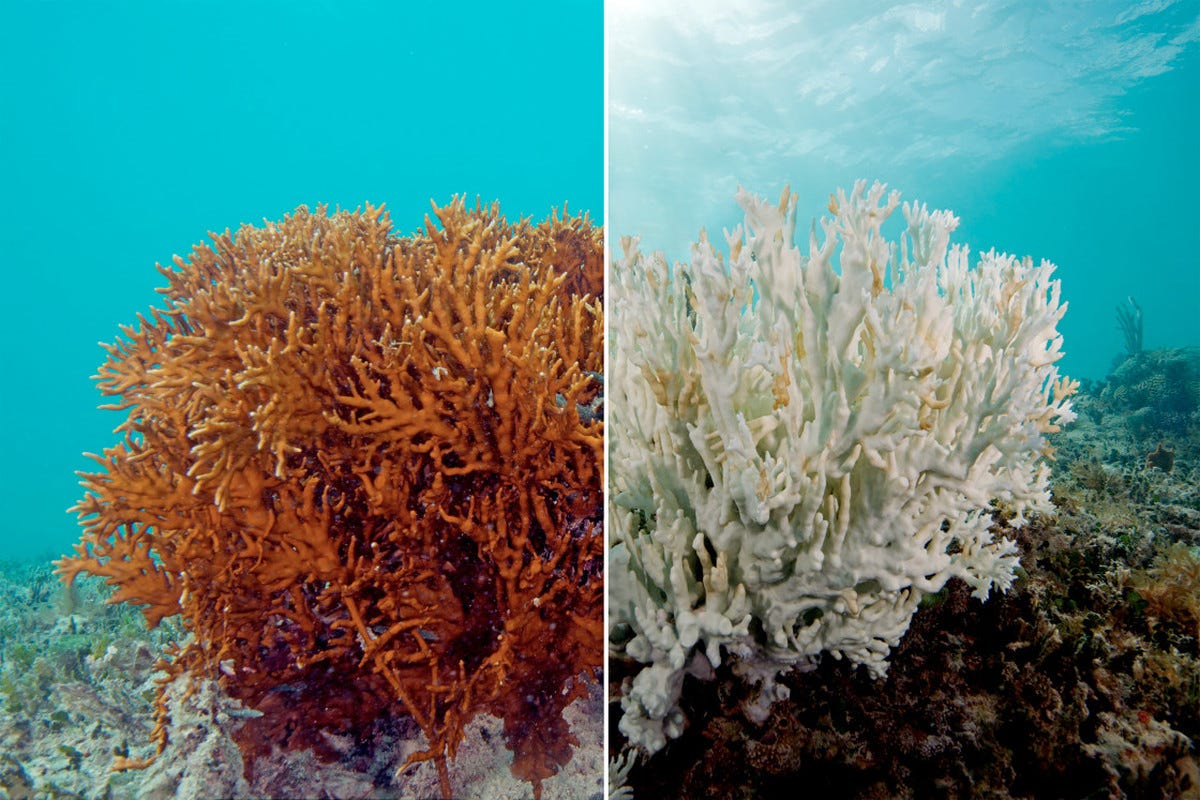 (Source: Vox)
From 2016 to 2018, half of all coral in the Great Barrier Reef died, killed by oceanic heat waves that bleached and then essentially starved the symbiotic animals.
Australia is caught in a climate spiral.
For the past few decades, the arid and affluent country of 25 million has padded out its economy—otherwise dominated by sandy beaches and a bustling service sector—by selling coal to the world. As the East Asian economies have grown, Australia has been all too happy to keep their lights on. Exporting food, fiber, and minerals to Asia has helped Australia achieve three decades of nearly relentless growth: Oz has not had a technical recession, defined as two successive quarters of economic contraction, since July 1991.
But now Australia is buckling under the conditions that it helped to foster. Perhaps the two biggest kinds of climate calamity happening today have begun to afflict the continent: the wildfire crisis and great barrier reef holocaust. The Atlantic
---
CLEANTECH
Nikola Motors Claims "Holy Grail of Batteries" Doubles Range, Halves Price
(Source: Nikola Motors)

"We are not talking about small improvements; we are talking about doubling the range of BEVs and hydrogen-electric vehicles around the world," said Trevor Milton, founder and chief executive of Nikola.

That's the word from Phoenix based Nikola Motors. The breakthrough supposedly relies on modifications to current lithium-ion batteries rather than replacing them entirely. Those modifications involve removing the binder material and electric current collectors used in today's cells, resulting in smaller, lighter batteries with faster charging capability. The new and improved batteries are said to be able to handle 2000 charge/discharge cycles — about double the standard for today's batteries. CNBC
---
CORPORATE CITIZENS
How to Determine if Corporate Climate Commitments are Legitimate
(Source Photos: razihusin/iStock, Visivasnc/iStock, Ljupco/iStock)
"It's time to stop being carbon illiterate and hold companies to account when they claim they're changing." Dan Osusky, Director of Standards, B Lab
The year 2019 saw a record number of U.S. corporate commitments to reduce carbon emissions and to battle climate change.
However, we the public, can no longer collectively afford to be carbon illiterate, and being able to understand meaningful commitments when we see them might just help set us on the path toward achieving the emission reductions necessary to manage climate change.
In this article, Dan Osusky of B Labs, outlines four themes that should be present in any meaningful corporate climate commitment. Fast Company
---
INSIGHTS
---
RESOURCES
---
On a sad note, my mother Betty J. McLeod, passed away on Friday, January 10, 2020. Her unswerving love and support made me the person I am today.
Thank you for everything mom.
---
Curated by Walter McLeod, Founder and Editor-in-Chief of Carbon Creed and Managing Partner with Eco Capitol Energy.